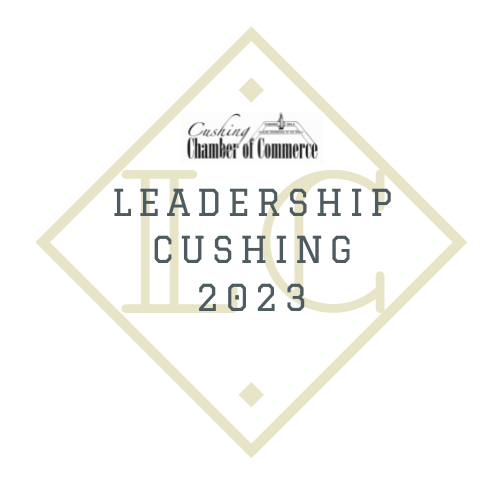 LEADERSHIP CUSHING 2023 PROGRAM APPLICATIONS ARE NOW CLOSED.  LEADERSHIP CUSHING 2024 APPLICATIONS WILL OPEN IN NOVEMBER OF 2023.  
Leadership Cushing is a seminar program hosted by the Cushing Chamber of Commerce.  The mission of Leadership Cushing is to prepare a representation cross section of the community's emerging leaders for their potential role in shaping the future of the Cushing Area.  This mission is achieved by acquainting class members with current community issues, providing a framework for meeting and working with other outstanding community leaders, promoting greater awareness of community resources, and offering avenues to become more civically involved through service projects and other community activities and/or leadership positions.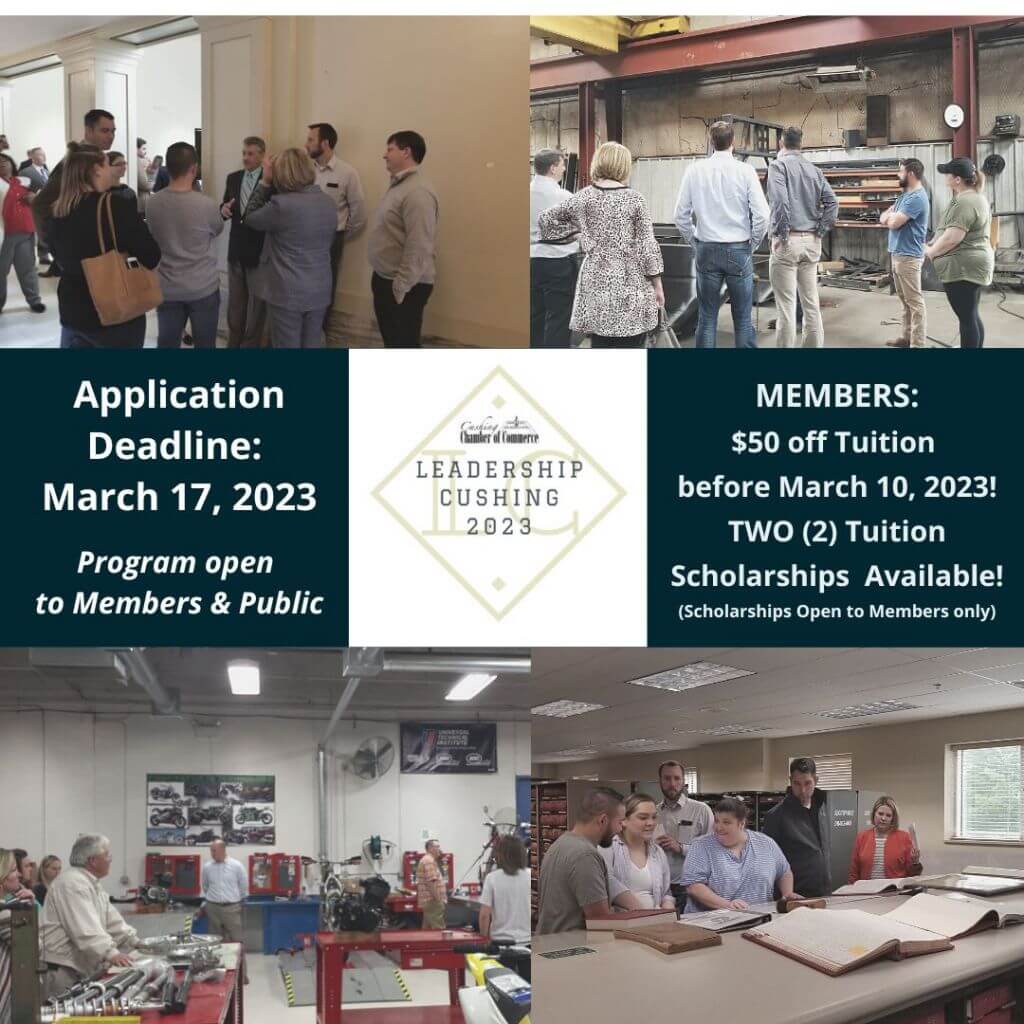 Cushing Chamber Leadership Cushing 2023 Program
Leadership Cushing has Four specific objectives:
To Identify potential community leaders
To expand the leadership potential of participants by increasing their knowledge of Cushing and critical issues that face our community
to expose participants to current community leaders and  improve communications between current and future leaders
To provide a channel for those not presently in leadership roles, to gain access to potential positions in our  community.
To help those new to the business community connect, network, and develop a base of connections to the community and beyond; those that want to learn about Cushing and get involved with the community.
THE CONCEPT/THE PARTICIPANTS: 
The Future of Cushing is dependent upon new leaders in our area.  Building a better community doesn't happen by accident.  It is fostered and nurtured by networking and connections made through Cushing Chamber programs.  Our Leadership Cushing Program is one in particular, that focuses explicitly on making connections and fostering potential future leaders in our community.
Developing a resource of concerned and knowledgeable Adult Professionals who will contribute to enhancing our community development is the focus of LEADERSHIP CUSHING.  The experience offers talented individuals the opportunity for personal growth and professional development, while also preparing them for the challenges of tomorrow.
If you are committed and open to serving the entire community, to helping solve local problems and to developing leadership potential, you are encouraged to apply for the LEADERSHIP CUSHING program.
Once accepted and enrolled in the program, participants will be expected to attend each of the sessions so they may benefit from all that the program has to offer.
THE SELECTION PROCEDURE: 
LEADERSHIP CUSHING will select a maximum of 15 participants from candidates who have applied or have been nominated by their employers, a community organization, or a member of the community.  Applications are requested from individuals most apt to use their leadership for long-term benefit to the community.
Participants that are selected will also be representing their affiliated businesses.  LEADERSHIP CUSHING not only helps develop future leaders in the community but also offers several networking opportunities with other businesses, developing lasting relationships between multiple Business professionals, political Leaders, community leaders, and so on.
Adult professionals that are selected for the class develop a close relationship as well, and keep those connections and relationships well after the program has ended.  Lifelong Friendships and business relationships develop quickly from the connections made between participants.
2023 PROGRAM SCHEDULE
(All Dates are tentative and are subject to change at any time): 
March 31, 2023 - Friday - LC Orientation & History of Cushing - MANDATORY ATTENDANCE - Meet at Steer Inn Restaurant - 11:30 am - 5 pm
Class will attend CCoC's monthly Legislative Luncheon from 11:30 am - 1 pm (Please register through Leg. Lunch event on our website event calendar page) LC 2023 participants:  THIS HAS BEEN CHANGED; WE WILL MEET AT STEER INN FOR "GET TO KNOW YOU" SESSION OVER LUNCH, BUT LEGISLATIVE LUNCHEON WAS RESCHEDULED LAST MINUTE TO MARCH 24.
Chamber office for orientation, team building with State Rep. John Talley, & History of Cushing speakers from the Cimarron Valley Historical Society
Historical Tour of Broadway District & around City of Cushing with Cimarron Valley Historical Society. (Tentative on Weather)
April 12, 2023 - Wednesday - State Govt.  Leadership Day - OKC Bombing Memorial & OK Capitol - 9 am - 4 pm - We will Car Pool or you may drive to OKC individually
Meet in Oklahoma City at the OKC  Bombing Memorial at 9 am
Tour the Memorial Museum & Outside Memorial Park Ranger Tour
Eat at restaurant across the street from  Museum (BBQ Restaurant)
Tour Oklahoma Capitol & meet w/ Cushing's District State Representative John Talley & State Senator Tom Dugger - One of them will introduce class from the Floor during session, which we will sit in on for a while.
Leave Oklahoma City by 3:30 pm
April 27, 2023 - Thursday - Local Non-Profit Organization Day - Meet at Cushing Youth Center - 2 PM - 5 PM
Meet & get to know Local Non-Profit Organizations
Class will be split into groups.  Groups will choose one (1) local Non-Profit Organization to volunteer for and do a Leadership Cushing Class project that benefits the local Non-Profit AND our community.  Project must be completed by LC 2023 class groups by LC 2023 Class Graduation date of September 22, 2023.
May 12, 2023 - Friday - NEW! Local Entrepreneur/Small Business Day - 11:45 am - 5 pm - Broadway District - National Small Business Week April 30 - May 6, 2023
Meet at local CCoC member restaurant, Pueblo Viejo Mexican Restaurant in the Broadway District no later than 11:45 am
Representatives from the Oklahoma Small Business Development Center and Central Tech Business  Development Center will be speakers during lunch
Local entrepreneurs will join us for lunch to hear from the keynote speakers, then will talk to the class about their businesses, trials & tribulations of being an entrepreneur, and more.
Tour Broadway District CCoC Member small businesses (Be ready to do some SPEED SHOPPING, too!):

BeYOUtiful Boutique
Crossroads Wellness Center
The Quilting Hut
Copper Penny
Cushing Citizen Newspaper
Cargill Custom Leather
Tiger Lily's Floral Designs
Edward Jones Investments
Pueblo Viejo Autentica Mexicana
Greenlife Planet & TIKI HUT / Spoken Creation
Silvertown Espress
Tours will not be done in the order listed above; 15 - 20 min. time limit for each will be spent touring businesses & brief interview with owners and/or staff, with more time allotted for retail businesses.  Some small businesses will be discussed during lunch, instead of in-person tour/interview. 
May 17, 2023 - Wednesday - Local Industries Day - Meet at Plains All American - Noon - 5 PM - CLASS: Address is in your emails
Meet at a local business (Plains All American) for lunch, business Introduction/presentation, tour of facilities
Tour KUSH Radio & Interview with Molly Payne
Tour VMI, Inc. & Interview with Cash Maitlen, President VMI, Inc.
Tour by Geoffrey Beasley, owner/operator Dunkin Theatre / Godofredo's Pizzeria & Tap Room
June 21, 2023 - Wednesday - Payne County Government Education Day - Meet at Payne Co. Commissioner office/county Barn 1502 E. Pine Cushing, OK - Session time period:  10 am - 5 PM
Tour Payne County Commissioner Zach Cavett's office & County Barn
Drive to Stillwater, OK and meet for lunch at Eskimo Joe's -11:30 am
Tour & Meet w/ Payne County Courthouse Offices & Officials
Tour Payne County Extension Office
Tour Payne County Sheriff's Office & Payne County Jail

Please note: We go into the jail; if you are triggered by these conditions /incarceration stories/viewing the incarcerated, you will be excused from this portion of the day.  Please be open and honest with Pres. & CEO Tracy Caulfield if this portion could be in any way triggering; we NEVER want to put anyone's Mental Health at risk.
June 27, 2023 -Tuesday - City of Cushing Government Day - Meet at City of Cushing City Hall, 100 Judy Adams Blvd. Cushing, OK - 10 am - 4:30 PM
Tour Cushing City Hall; Meet with City of Cushing City Manager Terry Brannon & City commissioners/City Leadership
Meet for Lunch at Copper Penny/Backroom Cafe in the Broadway District
Tour Cushing Public Library
Tour Cushing Senior Citizens Center
Tour Cushing Community & Youth Center
Tour Memorial Park
Tour Cushing Municipal Airport
~MONTH OF JULY NO CLASS SESSIONS~
August 3, 2023 - Thursday - Cushing Public Safety Day - Meet at Cushing Economic Development Foundation Office, 114 N. Harrison Ave. Cushing, OK at Noon - Session will be from 1 pm - 5 pm.
Meet at the Cushing Public Safety Center - 211 W. Main St.
Tour Cushing Police Dept.
Tour Cushing Fire Dept.
Tour Cushing Emergency Management Weather Tower
August 29, 2023 - Tuesday - Local Education Day - Meet at Cushing Middle School - 1 am - 5 pm
Tour Cushing Middle School & Cushing High School; View new Cushing Elementary School Specs, etc with Dr. Amon, Superintendent CPS
Tour Central Tech in Drumright, OK
September 7, 2023 - Thursday - Local Healthcare Day - 11:30 am - 5 pm - Meet at Hillcrest Hospital Cushing
Meet with Hillcrest Hospital Cushing President & CEO & Leadership Staff for HHC
Lunch and Tour at HHC
Meet w/Stillwater Medical leadership @ Local Facility
Meet with Graves Community Counseling Group
Meet with Watts Wellness Worth Medical
September 20, 2023 - Wednesday - Cushing Chamber of Commerce Day - Meet At Cushing Chamber Board Room - 1301 E. Main Street - 11:30 am - 1 pm
Attend the Cushing Chamber Membership 101 Orientation Class - Lunch Provided - Please register for this event on the CCoC website event calendar or through your Info Hub Account 
September 22, 2023 - Friday - Cushing Chamber Leadership Cushing GRADUATION Day - Meet at Godofredo's Pizzeria & Tap Room - 209 E. Broadway Street - 11:30 am - 1 pm
Leadership Cushing 2023 Graduation - Those LC 2023 class Participants that completed the Non-Profit Organization / Community Service Group Project and attended the amount of sessions required for Graduation

Discussion will be had about graduates' possible volunteer Board of Directors positions at local Non-Profits; gauging interest and in what area of work.
All session dates, times, and locations are TENTATIVE; any & all are subject to change at ANY TIME.  
TUITION FOR PROGRAM: 
Tuition includes all meals and admission to locations during class days.  Applicants are responsible for their own transportation to and from session days; during the OKC trip, car pool will be available on first come, first served basis.  Once applicant is accepted to the program, tuition is non-refundable.  To pay for tuition, click the REGISTER button on this page; applications are open for the CCoC Leadership Cushing 2023 Program from February 13, 2023 until March 24, 2023.   To pay via credit card, please click the REGISTER button AND click to add the credit card processing fee.  If wanting to pay via check, please click the "Be Invoiced" button above the credit card entry information on the registration page.  TUITION IS DUE BY MARCH 24, 2023.
$400 - Members of Cushing Chamber of Commerce - $50 OFF TUITION IF SIGN UP THROUGH YOUR INFO HUB ACCOUNT BEFORE FRIDAY, MARCH 10, 2023 AT 5 PM!
$500 - Non-Members of Cushing Chamber of Commerce
SCHOLARSHIPS:
Enbridge Scholarships - Enbridge will sponsor Two (2) CCoC Member tuitions.  Please select the option for scholarship submission on your application
CONGRATULATIONS TO LEADERSHIP CUSHING 2023 PARTICIPANT WINNERS OF THE TWO ENBRIDGE TUITION SCHOLARSHIPS:
LEILANI MOORELAND - Development Officer/Brand Strategist/Grant Writer - Wings of Hope Family Crisis Services
TREVOR FRIDELL - New York Life Advisor/Help Individuals financially Prepare for Life - New York Life
If there are over two (2) applicants that apply for a scholarship, Enbridge will choose who will receive their respective scholarships.  For more information, please call CCoC President & CEO Tracy Caulfield at 918-225-2400.
Deadline to turn in applications is Friday March 17, 2023 by 5 PM (LC 2023 APPLICATION DEADLINE EXTENDED TO MARCH 22, 2023 AT 5 PM).  Tuition is payable on or before Friday, March 31, 2023 by 5 PM.  
Each participant is required to attend at least Eight (8) of the (10) sessions to be eligible to graduate from the program (exceptions are reviewed by the Steering Committee).
LEADERSHIP CUSHING 2023 SPONSORSHIPS: 
Sponsorships are due by March 31, 2023 by 5 PM.  Please click the Leadership Cushing Event Calendar page button below to sign up for sponsorships.  These are a great way to support the LC Program as well as connect with the participants in the program; not to mention an amazing marketing opportunity for your business.
LEADERSHIP CUSHING 2023 PROGRAM APPLICATIONS ARE NOW CLOSED AND THE 2023 LC PROGRAM IS UNDERWAY.  FOR MORE ABOUT THIS YEAR'S LC 2023 CLASS AND TO FOLLOW THEIR LEADERSHIP JOURNEY, PLEASE WATCH OUR FACEBOOK AND INSTAGRAM PAGE FOR UPDATES.