WELCOME TO THE CUSHING CHAMBER OF COMMERCE
We are an Organization of businesses, Non-Profit Organizations, and Friends of the Chamber that are dedicated to making Cushing, OK the best place to live, work, and do business.  The Cushing Chamber is the catalyst for business growth and success; the convener of connecting people, ideas, and resources; and the champion for our business community.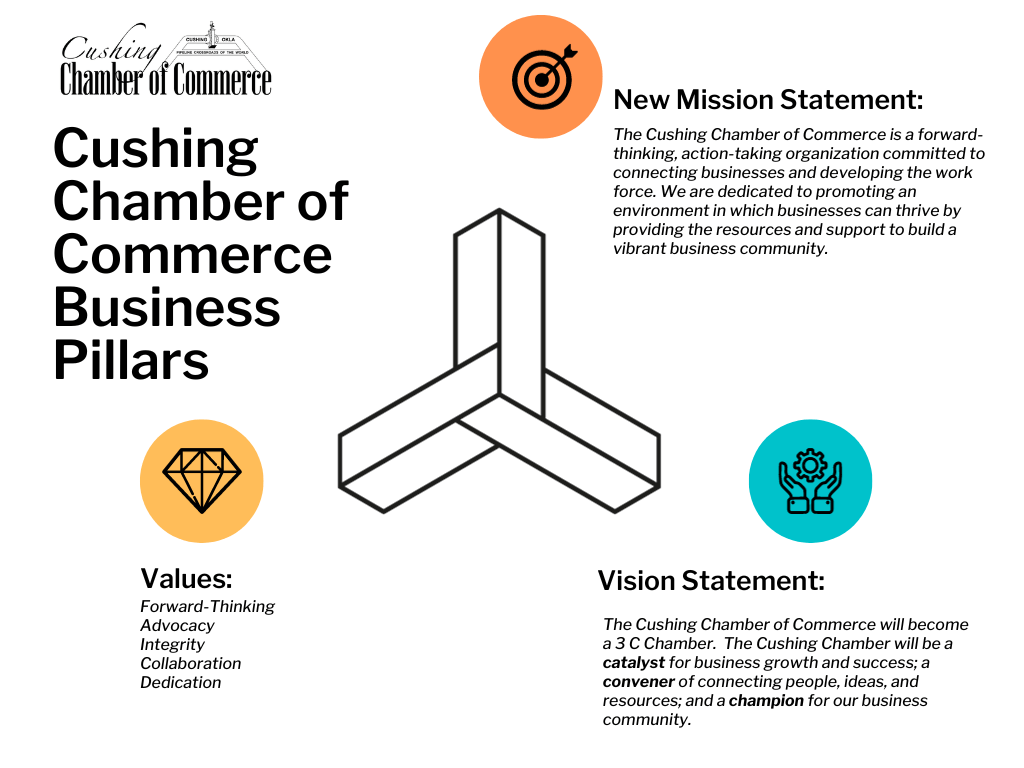 Our Mission Statement:
The Cushing Chamber of Commerce is a forward-thinking, action-taking organization committed to connecting businesses and developing the work force.  We are dedicated to promoting an environment in which businesses can thrive by providing the resources and support to build a vibrant business community. 
Cushing Chamber Strategic Plan 2021 - 2023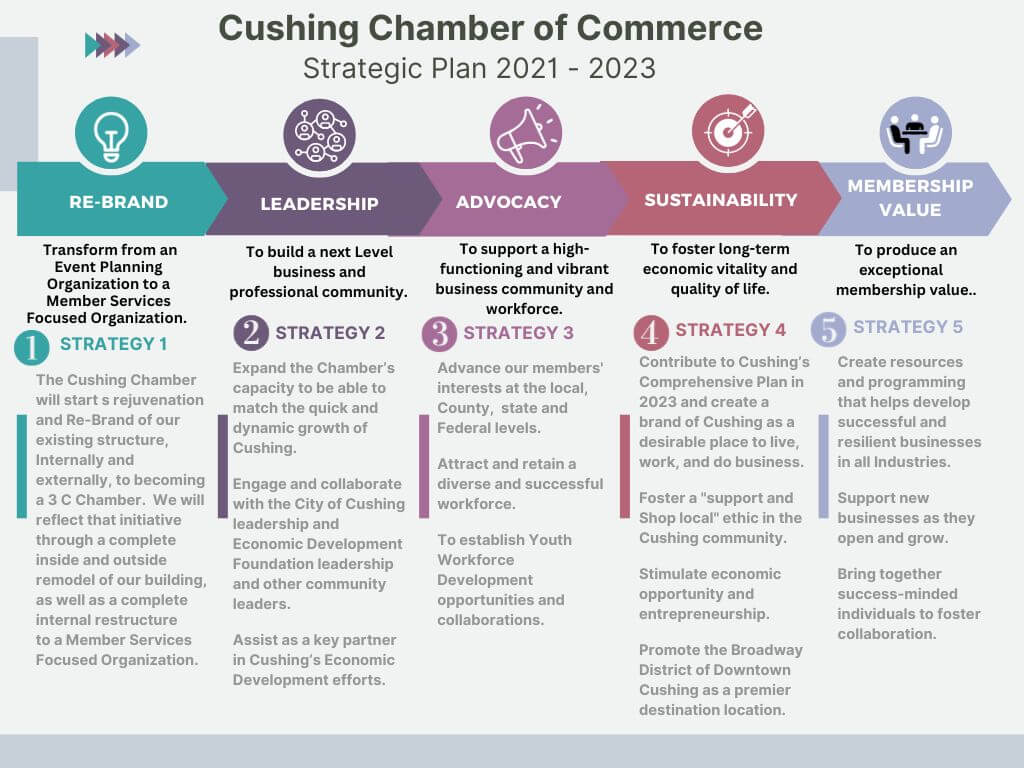 For 95 years, the Cushing Chamber of Commerce has been serving the Cushing and Cimarron Valley Area with quality programs and services designed to help businesses grow and thrive, with a goal of being an advocate and resource for local businesses, a community partner focused on business development, and an advocate for supporting and promoting buying locally.  With a unified voice composed of close to 300 member businesses and growing everyday, your Cushing Chamber is the strongest unified voice advocating for the best possible business climate.  The Cushing Chamber is a local non profit organization with a 501(c)6 tax status, funded entirely by our membership, governed by a Board of Directors, and staffed by Chamber Professionals who are dedicated to improving the business climate in our Area by providing quality service to our membership. The Board of Directors of the Cushing Chamber is comprised of local member business representatives who volunteer their time working for the benefit of the business community, and Work closely with the Chamber President & CEO.  The Chamber offers members educational opportunities that help to enhance business development.
Each member of the Chamber is important, no matter the size of business.  We not only want our local businesses to succeed; we want them to thrive.  We help small businesses grow by providing exposure, assisting in networking, and providing advocacy.  Whatever your business needs, we are here to help.
At the Cushing Chamber, local businesses work together to strengthen our local economy, promote the community, and advocate the interests of business.  Many companies are a member of the Cushing Chamber because they know that membership is a good investment in the future of their business and our community, and that joining together under the Cushing Chamber with other Member businesses to unify as one voice for the local business community is the only way to help the community grow and thrive.  They also know that this business unity under the Cushing Chamber membership umbrella shows that the business is dedicated to our community and shows CREDIBILITY.  People do business with those that they KNOW, LIKE, AND TRUST.  The Cushing Chamber helps to establish the Know, Like, and Trust credibility for your business. We are dedicated to helping you and other companies grow your business.  We hope you join as a member and together we will make our community a great place to live, work, and do business.