TEDFORD INSURANCE & THRIVE PEO
CUSHING CHAMBER MEMBERSHIP EMPLOYEE BENEFITS PROGRAM

Focus on what matters. Leave the rest to us.
Let's face it. Being an employer in today's marketplace has become a difficult proposition. Success ultimately requires a relentless focus on core products and services, competitors and the bottom‐line. Unfortunately, non‐revenue generating administrative functions tied to: human resource management, employee benefits, payroll and tax administration, and governmental compliance can easily become distractions. So what can you do?
What if you could proudly offer your employees big-company benefits without the big-company price tag?
What if you had more time and freedom to focus on the goals you've been working so hard to accomplish?
What if you could leverage a local team of dedicated experts in Insurance, HR best practices and compliance?
What if you could help your growing company avoid unpredictable costs and other business risks?
You can accomplish all of this and more, with the Cushing Chamber of Commerce's new Employer Solutions offering.
Managed through Tedford Insurance's team of Trusted Advisors, and powered by Oklahoma-based Thrive PEO, "Chamber Employer Solutions" provides our members with a broad selection of business performance tools designed to help your business soar.
Services Include:
· HR & Compliance
· Payroll & Tax Administration
· Time & Labor Management
· Employee Benefits Plan Analysis and Design
· Benefits Administration
· Workers' Compensation & Safety
· Retirement Plans
With Spectacular Results:
· Contain Operating Expenses
· Access Better, More Affordable Employee Benefits
· Increase Productivity & Profitability
· Improve Governmental Compliance
· Reduce Employee Turnover
· & More
Contact us today to learn how your business can save $1,000 per employee per year or more at: 918-225-2400. You'll be glad you did (and your employees will too)!
CLICK

HERE

TO VIEW THE PDF VERSION OF FLYERS.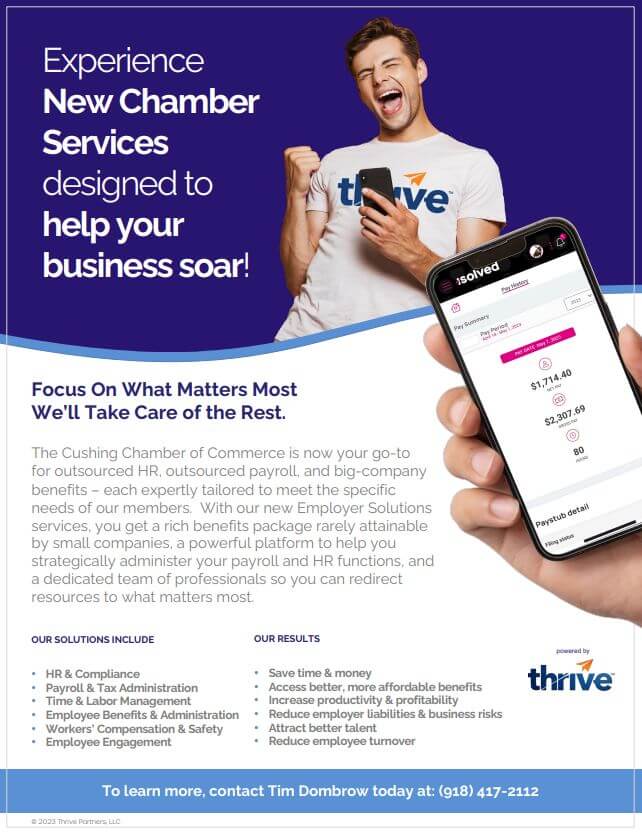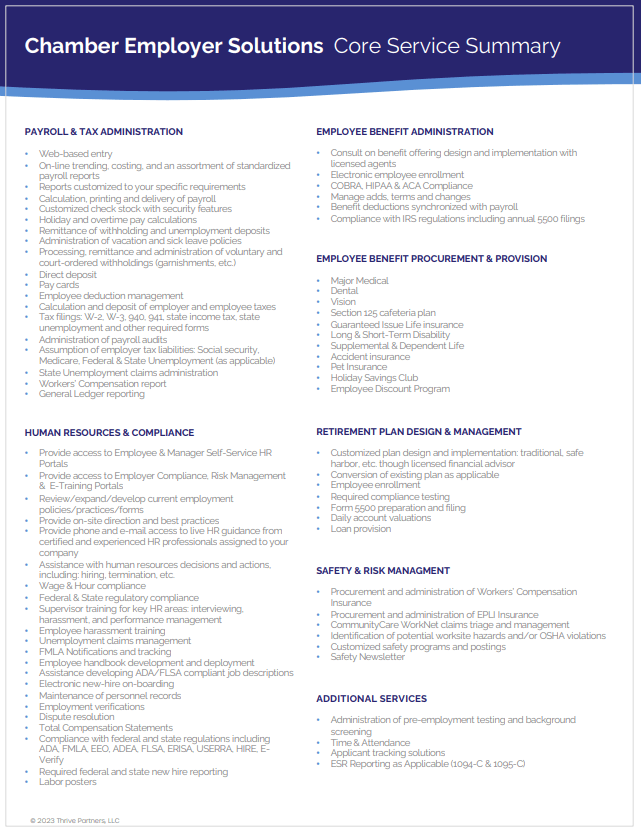 For More Information, Please contact our Tedford Insurance Agent:
Tim Dombrow
918-417-2112