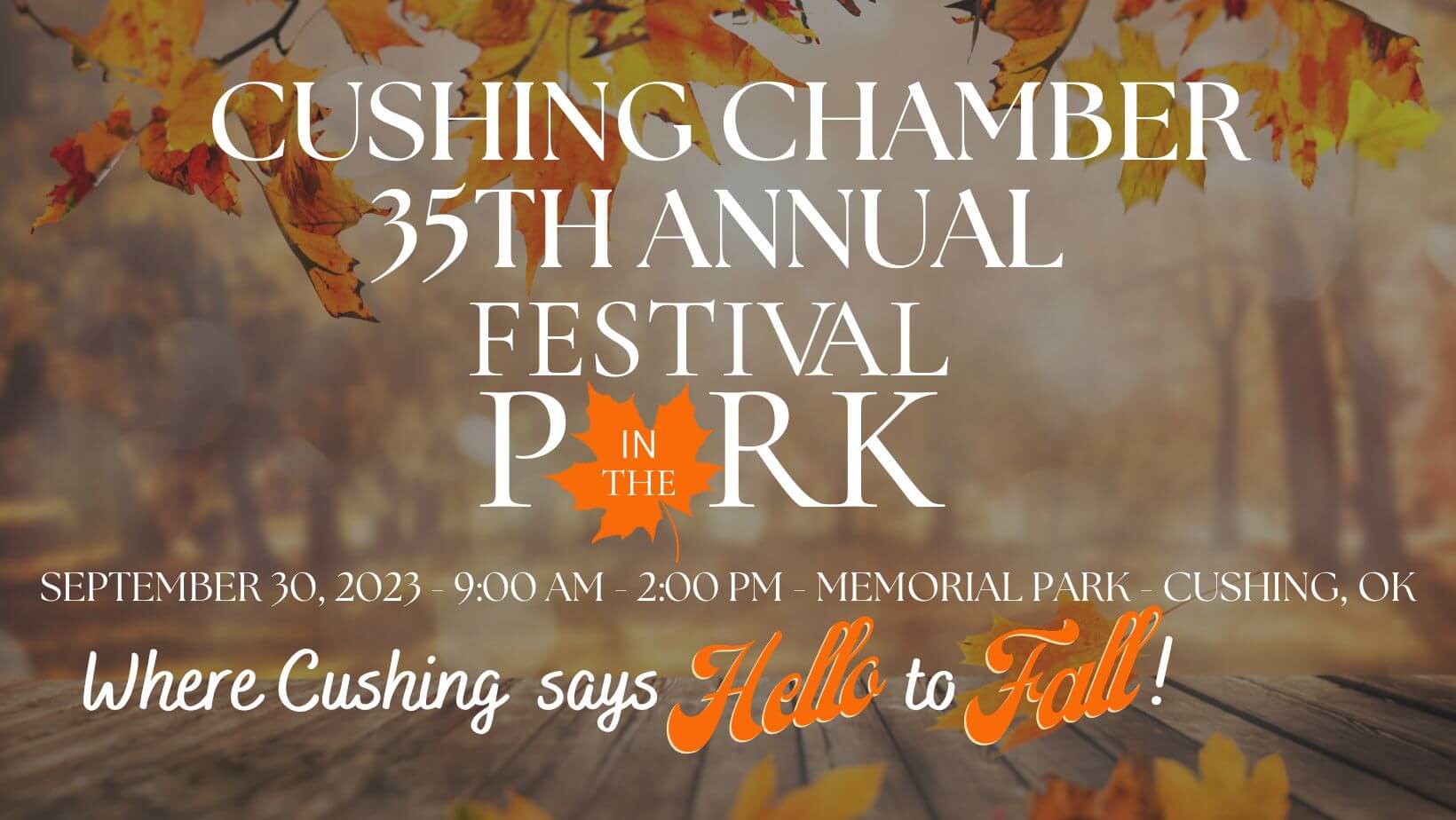 TO SIGN UP FOR A 2023 BOOTH, PLEASE GO TO OUR FESTIVAL IN THE PARK EVENT PAGE ON OUR CALENDAR, Click HERE 
Where Cushing, OK Says HELLO to FALL!
Hosted by the Cushing Chamber of Commerce, this fun event is held annually on the last Saturday in September in Cushing's beautiful Memorial Park, corner of 5th Street and Little Ave, from 9 am - 2 pm.
Bring the whole family out to enjoy free rides and attractions, watch displays by a roaming magician OR roaming musicians, eat amazing homemade foods provided by local Non-Profits for fundraisers, and shop at all the diverse & eclectic vendor booths.
The Cushing Schools Wrestling Team will kick off the Festival at 7 am with a 5K & Fitness Walk Grappler's Gallop Run.  The Grappler's Gallop is U.S.A.T. &F. Certified and Sanctioned.  Sign-up's will be open soon!   Registration is at 7 am  in front of the Aquatic Center the day of the race; race starts at 8 am.
ONLINE REGISTRATION ON OUR WEBSITE FOR THE CUSHING WRESTLING TAKEDOWN CLUB'S GRAPPLER'S GALLOP 5K RUN & WALK EVENT PAGE AND ONLINE REGISTRATION, CLICK HERE
On the Memorial Park Amphitheater Stage, 9 am - 1 pm, our local Cushing kiddos will be entertaining the crowds on stage.  From Dance Star Productions to the High School Dance Teams, Choir, Band, and all ages Cheer Squads......YOU WILL BE ENTERTAINED!  Our roaming magician OR roaming Musicians will be our last performance on stage, with a full half hour to 45 minute Act that you won't want to miss!  We will also have a CARICATURE ARTIST this year, so grab your bestie and get a drawing of the two of you!
Festival-goers can browse & shop booths featuring canvas art, crafts, jewelry, leather work, woodwork, vintage marketplace products, pottery and more. Vendor booths are not duplicated, so there is a variety of products to purchase and see.  Some booths even have available where you can create something for a small fee.  These make perfect Christmas presents, birthday presents, or even just because presents!  The Lachenmeyer Arts Center will have a booth where you can create your own Roku!  They bring the kiln and everything you need to create your own MASTERPIECE!  Local Cushing businesses & Non-Profits will also have booths where you can play games for prizes; find out more about our local businesses and Non-Profits; and some will have free children's activities, such as coloring sheets or different types of art to create.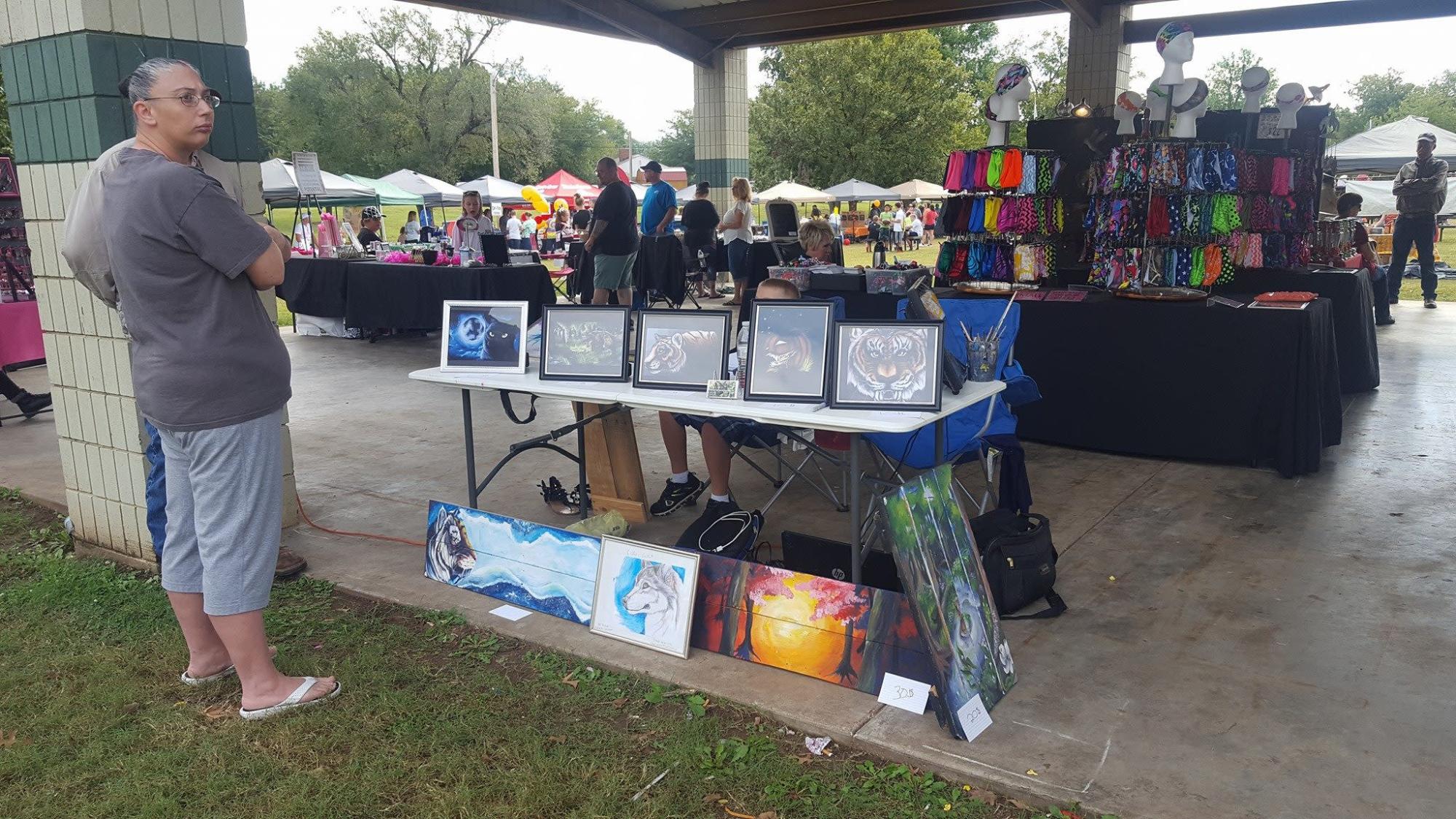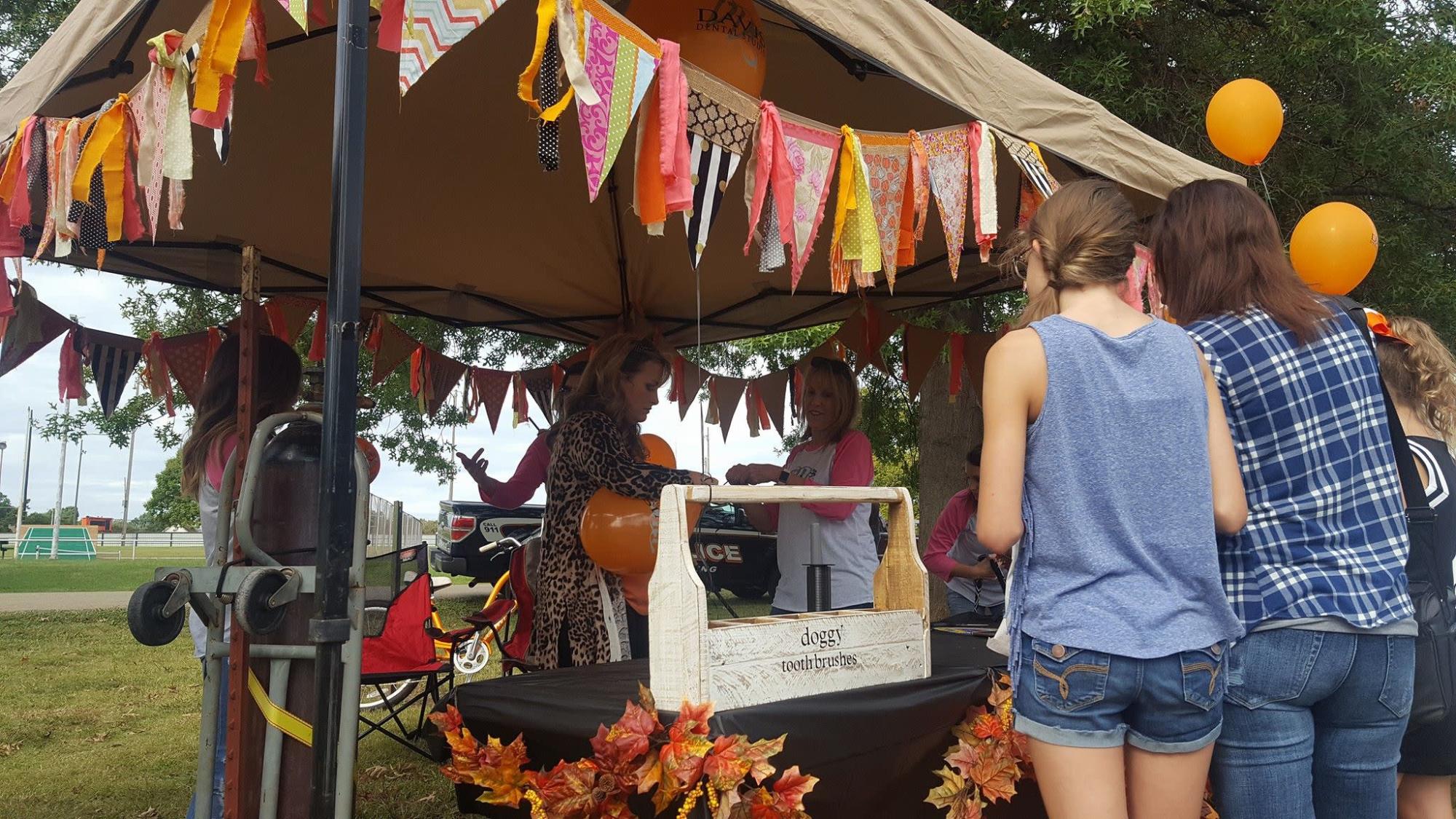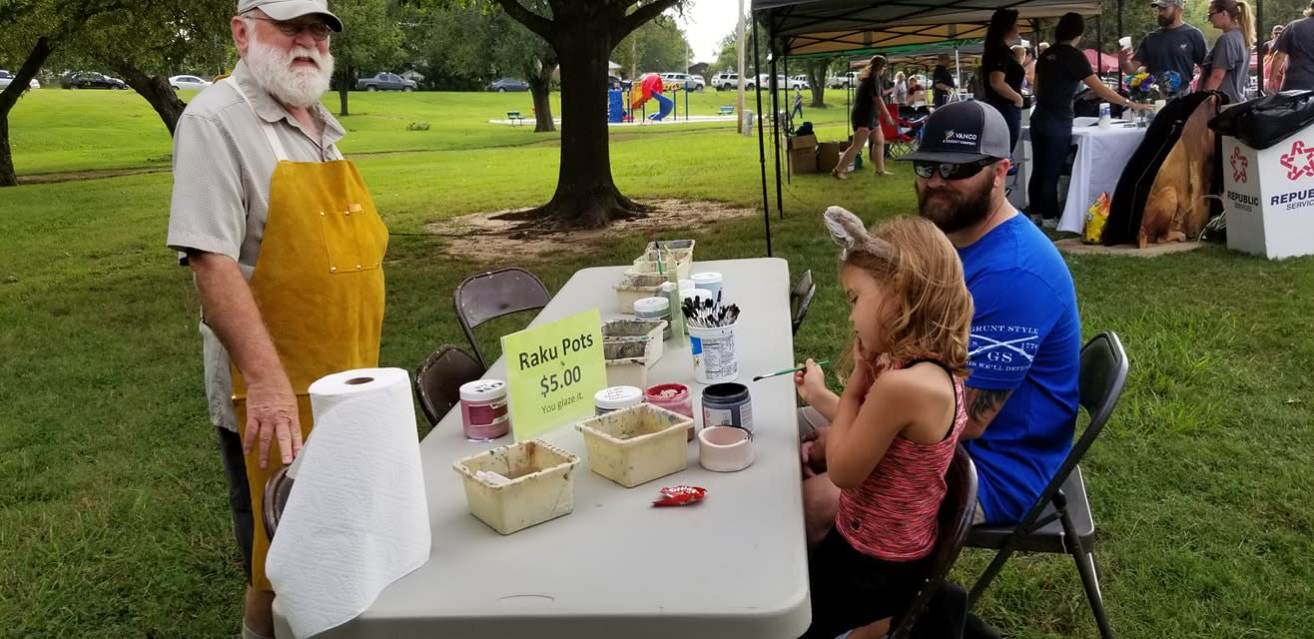 Once you've worked up an appetite, head over to food booths offered by nonprofit organizations. The NonProfit Organizations will have bake sales; Indian Tacos; Hot Dogs; Cotton Candy; Sno Cones; Homemade Chicken And Noodles..... YUM!  Lots and Lots of variety for your lunch, and then get some TO GO for supper that night!  Check back here and on our social media channels to stay informed on what the Non-Profits will be serving up this year!
One other tasty option is the Cushing Lions Club Chili Cook-off, which will showcase over 10 different chili specials. Pay for a taster's kit and vote for your favorite chili; then stick around to see who takes home cash prizes and trophies.
Cushing Lions Club Chili Cook-off Entry Forms are now open for 2023 and are available on our Festival in the Park event calendar page; please click the above link to be taken to the page on our website.  
Here are the Distinctions between our different vendor booths: 
MARKETPLACE VENDOR - BUSINESS & NONPROFIT ORGANIZATION - NONPROFIT/FUNDRAISER FOOD (CONCESSION) BOOTHS: 
Marketplace/Artisan Vendors:  Jewelry Makers - Leather Works - Metal Works - High-End Vintage Marketplace - Boutiques - Artists - Artisans - succulents - A Vendor Booth is anyone that has a PRODUCT/ITEM(S) to sell to the public.  Vendors are also HIGHLY ENCOURAGED to charge the public a small fee to do a project of your booth.  For example, making a piece of Jewelry; picking out a succulent & pot to make your own potted succulent to take home; mini art work pieces; etc. Small fee is up to the Vendor. Make sure you have SIGNS at your booth to let the public know they can create something.  Let the Chamber know as well so we can pre-market your booth. Please mark this on your Vendor Booth Application.
Business or Non-Profit Organization Booths:  Any business or Non-Profit Organization is welcome to have a booth to connect with the public.  Doing some type of activity with the public is encouraged:  Prizes; giveaways; drawings; etc.  Bring your swag, pamphlets, brochures, etc. and have fun with the community!
Non-Profit/Fundraiser Food (Concession) Booths:  Only Non-Profit Organizations or those doing a Fundraiser for a NonProfit/student Organization/etc. can have a Food Booth for the purpose of fundraising.
Cushing Chamber Members receive special discounts on any booth type; please be sure to click the appropriate booth name if you are a Cushing Chamber Member.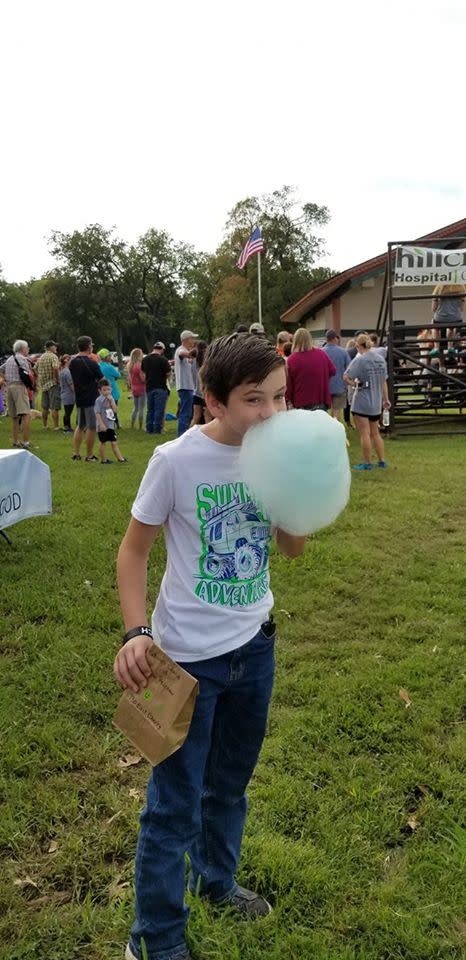 Only Non-Profit Organizations are allowed to have any type of Food Booths.  No Food Trucks allowed unless it is being used for a local Non-Profit Fundraiser.  Please call the Cushing Chamber & speak to Pres. & CEO Tracy Caulfield to discuss Food Truck fundraisers.  No food items will be duplicated; One (1) booth per food item(s) to enable fairness & variety of items for sale.  
 At this Festival, you will definitely catch the #LoveLocalCushing feeling!